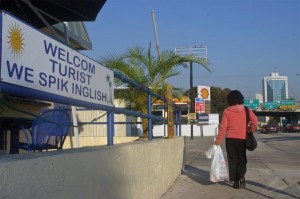 I love the English language.  As a writer, I have worked with it for more decades than I care to mention.  I have molded it, sculpted it, admired it and, at times, abused it.   I love its versatility and its application.   I enjoy hearing the people who speak it so well, reading those who have applied it to the written word.  I love it in drama and comedy, and even to convey information.
There is no doubt it is our native tongue.   But others have come here who speak in other native tongues and are slow to utilize English as their primary language.   The should, and most will over time, much like our ancestors picked it up.  Over time.   Their kids will surely use it.
I have friends who depending on desire and education speak English with either a thick accent or new accent at all.  I hear most of their kids speak, and the majority sound like any other American kid,  generational jargon, bad grammar and all.    I dare say most of my friends of fairly well educated, and if they are not educated their ambitions have elevated them so they are successful in their adopted land.   They want to assimilate, and their kids definitely want to assimilate, so that may be part of it.
But then there are those who insist everyone speak English.  Nothing but English.   Not a bad idea, really, but not all that practical.  According to an article in the New York Times, a Nashville, Tennessee City Councislman wants to put forth a measure where all government workers speak only English.   His measure has met with considerable resistance among Nashviille's citizens.   Whether it passes or not remains to be seen.
I am reminded of other instances where either private entrepreneurs or city officials, all puffed up on whatever righteousness they believe in have posted signs in their establishments or otherwise made clear they wish us to be an English only nation.   Frankly, I can see their point.   English, aside from the principle of it all, is our native language, and it does tend to expedite things if we all can speak it.
However, I am also reminded of the wide variety of the way English is spoken.   How the pronunciation of the language and specific words can vary from region to region.   We have a variety of accents in this country, and often one person's accent while a comfort zone in his region is offputting in other places.   Northerners think of Southerners as dumb because of the way they speak, and Southerners think of Northerners as abrasive.  In the Midwest, people in the Northeast are viewed as abrasive because of how they speak, while more than a few regions revel in mocking the California Dude.
We from some places viewed those form other places as slurrring their words or allowing them running together.  We take umbrage, at least some of us do when a supposedly intelligent Vice Presidential candidate can't articulate her "ing's."   We don't like it when a President can't pronounce nuclear, and it's a tough day in Dixie when its citizens try to make the distinction between "oil" and "all."
Then in places like Philadelphia, some people can speak distinctly and articulately while some of the neighborhood folk talk with the "d'ese and "d'ose," and "you'se" or  "yizz," which always sounds so poetic.   New York Cabbies used to mocked, when they weren't all recent immigrants, and the famouse "turdy turd and turd," pronounciation of an intersection is not exactly the King's English.   Speaking of the King's English few can understand the Brits, who pretty much invented the language, and then there are variations that can make it even less comprehensible.  Cockney, for example.
Then there is the Irish English and the Scottish English.   The English of the West Indies, and so it goes.  A whole lot of English with a whole lot of variation.   I'm not complaining, mind you.  I find it all pretty fascinating.  Interesting.
I just find it ironic that when certain citizens demand that we all speak English, I have to wonder, " which brand of English would you prefer?"   Perhaps we should amplify and extend the near forgotten phrase of Gertude Stein.   "A rose isstill a rose in any language."  Just don't throw me out of your restaurant for not pronouncing it correctly.