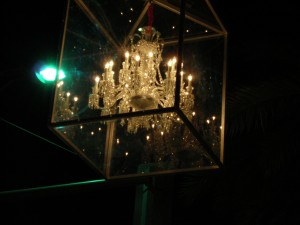 As I do every holiday season, I make the rounds and watch people do their Christmas shopping.  I not only find it interesting, I believe it is among the best barometers to tell what is really going on in the economy and in society in general.   It is not only a matter of how much people buy, but what they buy that can tell you quite a bit about the general state of things.  With frivolous items, times are good.   Foods and times are bad.   Stuff like that.
Every year we stroll down Rodeo Drive which boasts of twenty-odd Baccarat Crystal Chandeliers, all suspended above the street in double lantern frames.  Each chandelier is unique and they certainly cast a rich and classic glow over the street famous for the most upscale designer brands in the world.   But things weren't the same as the previous years.   Where shoppers were seen in past years parading around with five, six, seven shopping bags, this year I would see more shoppers with just one bag or in many cases no shopping bags at all.   There was, however, a lot of looking and drooling, remembering no doubt the good old days when people had money.
Despite the pricey stores and the upscale clientele, you could see the anxiety on the faces of shopkeepers and store clerks.   Business was off and time was consumed being nice to those who strolled into the shops to look around.  Hope springs eternal, and in this case there was hope that shoppers would change their minds and buy something on impulse.
Down at the opposite end of the spectrum, Los Angeles has Santee Alley.  Santee Alley is just that, a bustling narrow street in and about the failing garment district where goods can be bought from open air stores.  Cheap.  You can find anything from toys and clothing, to pet Iguanas and Parrots in Santee Alley.   People visit there from all walks of life from all parts of the city.   Shoppers are largely Hispanic, as are many of the shopkeepers,  and it does help a little with the bargaining if you can speak Spanish.
But it is money that does the most talking in Santee Alley.  If you have some cash you can bargain.   You can buy knock off designer brands from the different stalls or Callejones, as they are known in Spanish.   You know, counterfeit Louis Vuitton or Prada Bags, counterfeit designer jeans, even fake Sony electronics.  Ed Hardy Fashion has been the big counterfeit opportunity for the past few years. Some are on display, but with most cases you just have to ask.  If the shopkeeper determines you are not a cop, he will pull out from the back storage area a large canvas or plastic bag filled with bogus designer handbags.   Some are made better and look more authentic than others.   Quality control in the counterfeit industry is pretty much free form or nonexistent.
So while business was quieter than most years, it was still pretty brisk in Santee Alley.  People were buying colorful outfits, toys for their kids and the proverbial smuggled Iguanas and Parrots.   And then the police came.  Forty-five of our city's finest raided Santee Alley, as they have done for a number of years in a row.  Like other things, the police raids in Santee Alley have become a holiday tradition.  Dozens of cops swooped down on the shopkeepers and confiscated whatever counterfeit merchandise they could find.   Twenty eight people were arrested and an estimated haul of close to $3 Million in merchandise is now in police custody.
So much for looking upscale on the cheap.   Bogus or not, there are always plenty of buyers for the counterfeit merchandise.   Perhaps a live Iguana will have to do for Aunty Jospehina.  But then there is a bright spot.  After this dismal holiday shopping season maybe the real stuff will be reduced and affordable.   Just to get rid of it, authentic designer merchandise will be given away at firesale prices.   Who knows?   For the designers who don't wish to besmirch their brands, some of their own merchandise may make the trip from Beverly Hills to Santee Alley.   That would be something.