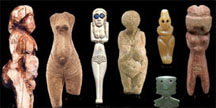 Common long time fodder for comedians and pundits alike is the threadbare cliche about how men don't understand women.   Unless you have been hiding under a rock for the last century, you  have been treated to a surfeit of sketches, the articles, and the stand up routines depicting women as mysterious creatures we simply can't understand.   Funny?  Sometimes.
But the fact remains that what we really haven't a clue about is woman's actual role in history and culture.   I am not talking about the kitchen queen of the fifties or the Woman's Lib activists of the 60's and 70's.    Despite the fact we have a dog's sense of history and fifty years ago appear like ancient times, there are patterns of acculturation and the roll out of historical events that have gone on for centuries.   And for what we know of those decades, we know so little about the female role in society and civilization.
It is fair to say a great deal of woman's history has been suppressed.  Hence lecturer, author and vaunted historian, Max Dashu, has compiled over decades boundless information about woman's role in society.   That is in societies around the world.    Dashu's website, Suppressed Histories Archives is a daunting work, revealing boundless information about woman's role in society, almost since time began.
Dashu has compiled images of all sorts and created lectures or presentations oriented toward myriad issues and cases in history.    There are some 15,000 slides and 100 different shows.  Dashu has lectured at colleges and universities as well as to a variety of organizations both in the United States and around the world.  She has created a fascinating DVD, and is currently working on a book series.
For history buffs and for those who think they have an understanding of womens culture, well here is an eye opener.   And for those women who are curious about their universal culture and societal heritage, this is a treasure for the mind.    This is complex subject matter, not some simplistic jargon in the latest fashion magazine.   And Dashu offers detailed analysis of some of the more complex issues of the past and how they affect our culture today.
This is a class act.   And there is no two drink minimum.