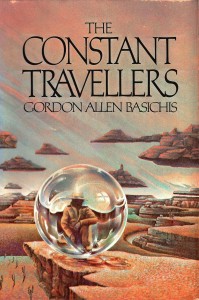 The Constant Travellers, a novel by me, Gordon Basichis, has journeyed a long way over the years.   Since it was first published by G.P. Putnam's its film rights have been optioned twice by two motion picture studios, Twentieth Century Fox, and MGM.   The Authors Guild adopted it as part of their Back in Print Program at the beginning of this century.   Originally, it has been recognized as a quirky Western Epic Fantasy, full of humor and philosophical insight.  It was seen as a metaphysical book, embracing and also satirizing some of our more sacred cows.
Some people loved it, and some people hated it.  Most agreed it was a mixed genre type of novel that fell into a lot of categories while never being pigeonholed by any single one.  One critic called it "the West that never was."  I don't think she was trying to flatter me.  But, nevertheless, I still took it as a compliment.  History for the most part is never as it was.  So in the arts, why not take it to a much further, illogical extension?
It was my first novel.  There was one before it where a publisher bought it but a regime changed aborted its release.  But The Constant Travellers came out with a lovely cover, at a time when covers were replicas of such exotic things as original oils.  In this case, noted artist, Ron Walotsky, painted the original oil that became the cover.  Ron was kind enough to sell me the painting, and it hangs on my wall to this day.
I am proud of this book.  It was truly a labor of love and a work of fiction written by a young writer who knew almost nothing about the exigencies of the publishing industry with all its precepts and machinations.  I never pitched it or really wrote an outline for it.  One day the first couple of sentences popped into my mind and off I went, working out the story as I progressed.  I loved writing that way as the characters and story was always filled with surprises.  I knew in my efforts I would try to deconstruct time and space and demonstrate for the children of fate and circumstances there really are no accidents.   Life has its meaning not in the greatness of the celestial or in eternity, but in the people you meet and the things you learn from them as you wander down the road.   True enlightenment, as I believed then and still believe today, is not handed down by a higher order but through the experiences gained from human interaction and where you take them from there.
Life for some is more serious than others.  Life may be serious, but it is the humor and irony that we discover in the events of our journey that serves to lift us to a greater recognition of our very finite place in an infinite universe.   Without our eliciting the quirky elements to even the more sober conditions of life, we are doomed to a very prosaic existence.
Anyway, The Constant Travellers, has arrived in the twenty-first century and made it to Kindle, Sony Reader, and soon will be on IPad and other epublishing channels.   I am happy about this.   The money, fortunately, is not so important at this juncture in life.   But to see a newer readership, a mixture of younger people and former drug taking, sex having Boomers who may see this book as a life once led, there is much gratification.   I am glad to see it out there.
What a trip it has been.
" Ebook Description
"Sex, drugs, and the West that never was. In this funny and philosophical tale, young Shelby Lopez encounters Thunderbird Hawkins in post Civil War America. The Indian shaman teaches Shelby of the Great Necklace and the Great Book. Their journey leads them to wisdom and an understanding of man's destiny. While set in the Old West, the novel's modern idiom is as contemporary as if it were today."