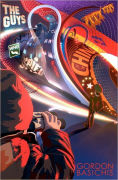 Minstrel's Alley author, Gordon Basichis, is contemplating writing a non-fiction book in support of his earlier novel, The Guys Who Spied for China. The new book would outline how the economic and security strategy that was formulated for China was both erratic and costly. The Guys Who Spied for China, is a roman a clef based on the early Chinese espionage program that took place in the eighties and nineties.
"Today, there is sudden concern that we did too little to stem Chinese military and economic ambitions in its region and globally," said Basichis. "We were in it for the quick money and it seems from one administration to another we neglected the larger picture. As such, China has made some remarkable advances in its military, in technology, and has expanded its economic footprint so that it threatens to dominate ours.
"When I first wrote The Guys Who Spied for China, I thought it as an intimate spy novel, but one with plenty of its warnings," said Basichis. "For over thirty years Chinese espionage efforts enabled it to steal some of our more advanced technology in weaponry and the industrial space. It has cost the American corporate concerns billions of dollars and has closed the technological edge the United States may have established in the past decades."
Basichis pointed out that FBI Director Christopher Wray issued recently a dire warning about China's growing influence. The article was published in the Business Insider, and Wray expressed concerns about the variety of ways China was implementing elaborate strategies to replace the U.S. as the dominant power. He noted much of Wray had to say has been stated many times, but we have so far failed to implement a coherent, long term policy through which to defend ourselves.
"When I was writing The Guys Who Spied for China, more than a few were aware China was involved in a comprehensive espionage and information gathering system," said Basichis. "But, like many things, the threat was not as obvious as it is today. China's advanced cyber threats were largely in the developmental stages and much of the weaponry, much of which was based on the theft of American technology, was yet to be created. Responsible parties thought they had plenty of time to counter China's attempts at global dominance. Well, now here we are. Time is up."
For the complete press release please click on this link