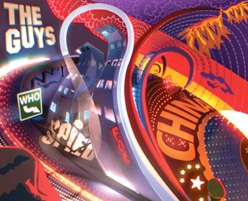 The Evergreen Review holds a special place in my heart.  Along with its book publishing division, Grove Press, from the mid-century on,  intrepid visionary, alias the publisher, Barney Rosset,  brought forth to this nation a tremendous selection of cutting edge literature.  This was literature that few back then would dare publish.   Even today many of these remarkable contemporary writers  would still be wanting a publisher had it not been for Rossett.
The Evergreen Review and Grove Press publication list, first introduced Americans to Samuel Beckett and William Burroughs.    Grove published the unexpurgated version of D.H. Lawrence's Lady Chatterly's Lover, Henry Miller's Tropic of Cancer, among other of the author's works,  and the unabridged work of Marquis De Sade.   Grove and Evergreen published international authors, some of whom would go on to be awarded the Nobel Prize in Literature.   Like Japanese novelist Kenzaburo Oe and Per Lagerkvist in Literature.
Evergreen Review published Jean Paul Sartre, John Rechy, Octavio Paz,  Malcolm X, John Rechy, Jakov Lind, Jack Kerouac,  Jean Genet, and Allen Ginsburg.   There are so many that it is almost senseless to name them all.    You can find a list of authors at the Evergreen Review website, which I have linked to here…Evergreen Review.
Back in the Paleolithic Era when we were supposed to be good children reading Silas Marner, I was visiting the long defunct Marlborough Bookstore in New York.   The Marlboro Bookstore was a local chain and was unique as it put on its remainder shelf copies of Grove Press publications.  They sold them at a bargain off of list price.  Just a buck.  For one dollar, not the smallest amount of money for a high school kid in search of something  a little more a little more relevant than the classics, I could rummage Marlboro on the cheap and find in Grove and Evergreen this marvelous new world of writers.   These were writers who had not been  sanitized with century's worth of time time and that incumbent respectability.   These were flawed individuals, exploring the world around us, offering us at times often gritty and surreal insights.
These were writers  who were flawed in character, erratic, and often unpredictable,.  They were lyrical and immediate, in your face.   They explored sex of all varieties and  drugs of every kind.  They examined changing roles of men and women in modern society.  They delved into politics and society and helped to demystify the bland myths of mid-century acceptance.    And for these writers, unlike the academics and the acceptable mainstream, this was not an intellectual exercise.    They practiced what they preached, and a good many paid the price for their indulgences.   Such is the price for living it.
This is where I cut my teeth.   These were the writers who worked to define modern times and now and then offer illumination and poetic transcendence to a world that was getting crazier by the moment.   Some of these writer had been published elsewhere.  Some had not been published at all.   But here in a changing America, Barney Rosset made sure their voices were heard.
I write this because Evergreen Review was kind enough to review The Guys Who Spied for China.  While I make no points of comparison to others who have graced its pages, my literary exposure started with Evergreen Review, so it's like a full cycle.  I am delighted.  It means a lot to me.  Live long, Barney, and publish for another dozen centuries.   Given what the publishing world is today, it truly needs guys like you.
Here is the link to Kevin Riordan's review of The Guys Who Spied for China.