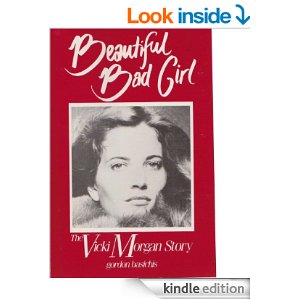 Los Angeles media concern, Minstrel's Alley, is promoting its bestselling book, Beautiful Bad Girl, The Vicki Morgan Story, for summer reading. The book, written by author, Gordon Basichis, tells the torrid love affair between department store scion, Alfred Bloomingdale, and his mistress, Vicki Morgan. The book has been described as a real life Fifty Shades of Gray.
"We are seeing a lot of activity on this book right now, "said M. J. Hammond, Minstrel's Alley Publisher. Gordon Basichis was recently interviewed by Optimen Productions for its new television series, Scorned: Love Kills. Beautiful Bad Girl, the Vicki Morgan Story, has been optioned for a film. A script is being written. We'll have more on that in the coming months."
Hammond noted that Beautiful Bad Girl, the Vicki Morgan Story, is a biographical novel that chronicles the tempestuous love affair that made international headlines while defining exotic sexual mores among the rich and famous, during the eighties. "It is wild ride depicting the sexual demons of the rich and powerful," said Hammond. "It has been a bestseller for Minstrel's Alley. It's been more than two decades since the book was first published, and it just keeps on selling.
"People's tastes have changed since the book was first published," said Hammond. "The popularity of Fifty Shades of Gray and Beautiful Bad Girl serve as testimony to public's changing taste and the openness to different sexual proclivities, including bondage, discipline, and sado-masochism Few women lived their lives like Vicki Morgan, and with Beautiful Bad Girl our readers gain insight into a world that fascinates them on different levels. On one hand, it is a tragic story about obsessive romance and murder. On another, it helps define female empowerment and the ability to live out one's personal adventures."
For the complete press release click here