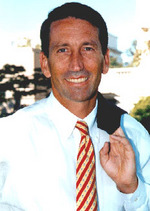 By now anyone with a heartbeat is aware that the quirky Governor of South Carolina, Mark Sanford,  enjoyed an extra-marital affair.  I say enjoyed, because anyone who would put his career on the line, especially when the career had presidential aspirations, must have really been in love.
Most by now have at least watched soundbites of Sanford's rambling apology and explanation.   He hemmed, hawed and fumbled about in a Joycean stream of conscious admission of his wrong doing.   The admission capped off several days of speculation where Governor Sanford was missing and incommunicado.   Depending on the time of day, his office reported him to be either hiking the Appalachian Trail or writing.   On the weekend that included Father's Day.
This would not be such a big event for a guy who wasn't a father.   In fact, it wouldn't hardly be noticed if the person was your run of the mill flake.   But in Sanford's case, his flakiness is labeled as eccentric, due to the stature of his political office.   We tend to do that, substitute quirky and eccentric for flaky and irresponsible according to one's stature in society.   But I digress.
What makes Sanford's affair particularly peculiar is that this is the guy who stood firmly on family values.  He is a devout Christian with strong family values and a steadfast belief in integrity and keeping his word and bonds.   He was a man who judged others for straying, and straying they are, these politicos.   The list of of lawmakers who have conducted extramarital affairs is getting longer every day.   On both sides of the aisle.   Homosexual affairs.  Heterosexual affairs.  Come one.  Come all.  Often on the public money.
But back to Sanford.   The news pundits are all over this.   The analyze it, assess it, rate it, label it.   They have said what a shame it was, fighting back a laugh here and there.   Many, including the liberal pundits, have solemnly pronounced this a "tragedy."  A tragedy.  Mind you.   Iran is beating the hell out of its citizens, and North Korea wants to nuke the world.  But here is the tragedy.
The fact is this is hardly a tragedy.   It is one more politician either being exposed for the sham, or so caught up in a romance that he lost all control of his family values and sense of proportion.  Take your choice.  Either way, it happens.  Obviously, it happens to those who condemn such behavior, as well as those who philander on a regular basis.   But it's the self-righteous who squirm a little more in the spotlight.
But this poor guy, after years of steadfast and rigid beliefs, finally got to know himself a little bit better than he had ever supposed.  He came to terms with himself.  He found out he was flawed and not as disciplined as he once believed.   He found love, it seems, and through that  he came to a recognition.  In some ways he transcended the boring black and white, simplistic values he so adamantly enforced such a short time ago and discovered the greater complexities of love and life.   It's an awakening, and hopefully he will use this recognition for a better purpose, for for no other purpose than to love more fully.
As for the supposed tragedy–what tragedy?   On the macro level, Sanford couldn't handle his own romance.  Something that finally got under his skin, steamed his sexual engines and made the righteous lifestyle a little more obscure, has in a sense liberated him.   But it also demonstrated it is questionable at least that he can't handle a crisis.  Sanford was a candidate for President of the United States.
And you know when that phone rings at three AM or you get a collect call from Argentina, you better know how to handle it.   It appears Governor Sanford is incapable of handling that proverbial call.   In a sense it is well in keeping with my general take on rigid people with rigid perspectives.   They simply aren't flexible enough to deal well when life throws them a curve.   George Bush in the classroom; Sanford in love.
So at the end of the day we caught a break.   This man could have been President and in a crisis issued the same style rambling explanation of just what was going down.   He could have messed up big time.   Now he won't get the chance.
He can spend his time reassessing those rigid values of his.   He can spend the time fixing  his life.