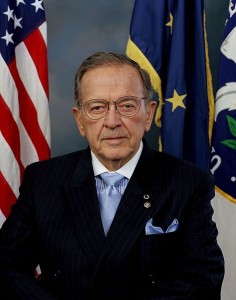 There is a great Bob Dylan line from his song, "Sweetheart Like You."   The line goes, "Steal a little, they throw you in jail.  Steal a lot they make you king."
Ted Stevens was a king in his own right.   Alaskans adored him.   He was a major earmarker who saw to it that his home state received more than its share of government money.   According to the corruption charges for which he was convicted, he apparently made sure he had received his own morsel from appreciative constituents.   In the end, at 86 years of age, he was convicted of corruption.
He lost his last election to the Senate and was forced to yield the Senate floor for the last time.  He looked good,kspiffy and dignified.   He was a tough old bird. His fellow Senators spoke highly of him and gave him a standing ovation.   Few get standing ovations on the Senate floor.   Were they just being kind to this senior legislator, or were they applauding because they were relieved, if not happy, to see him go.
We shouldn't find the ovation surprising, although a good many pundits were outraged over it.   They found it at best disingenuous.   I think it is actually quite ingenuous.   America tends to love its more notorious thieves and will turn them into mythic figures rather than cast them into ignominy.   I don't know why we do that, exactly.   But we do.
From Bonnie and Clyde to Al Capone, our criminals are mythic figures.   We are amused by the corrupt insider traders of the eighties and deal well with presidential pardons and commutations of sentence in a good many cases.   A Scooter Libby can violate one of the prime codes of the intelligence community and out an active operative, but few demanded his head on a platter.   His feeble sentence was good enough, and when that was commuted, nobody really cared.
We will anger ourselves over the faceless Wall Street thieves of recent times, but for some reason we pay little heed to the mortgage scandals and the thieves who either alone or in rings, ran real estate scams well into the millions and billions.  Perhaps the more complicated the scheme the less we feel capable of paying attention.  We are not much for attention spans, after all.
We often laud the criminals of the earlier years, the Prohibition Era.   But we do tend to be harder on our ethnic criminals, our Hip Hop Era Gangsters and leaders of our drug cartels.   Killing over booze seemed more romantic than killing over drugs.   We are fascinated by the Italian Mafia and can watch "The Sopranos" for days.   As for the Russian mob, the Asian mobs, and the other mobs that permeate our society, we are decidedly less enthralled.   They'll just have to wait their turn before getting their own television series.
If sex is involved in the crime, then we are titillated.   We are more concerned about Larry Craig, who solicited sex in a bathroom, than Ted Stevens who was convicted of screwing people out of money.   We spend years on the Jon Benet Ramsey story and a few minutes on the countless murders of children that occur every other week.   Jon Benet was pretty, a beauty queen, if you can even say such a thing.   The other kids are just kids.
So Senator Stevens gets his final adieu, his standing ovation, and even a pension.   He will be rewarded for her service and if his convictions are remembered at all, it is only because they will be chronicled in his book.  And possibly a movie.   As a thief, he was one of the good ones.   We deem him worthy of applause.