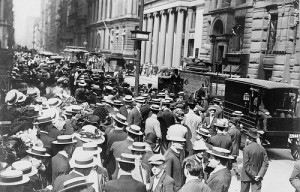 Once again terrorists have visited Wall Street.   This time they did not attack with hijacked airliners, crashing into the iconic symbols of American finance and commerce.    This time it wasn't even the fanatical zealots from the Middle East but instead our own home grown variety of terrorists.    Most were American born, indoctrinated with the teachings of an MBA instead of the Islamic fundamentalism.   Their spiritual, if you can call them that, convictions were not based on some warped view of Allah but on avarice.   They were on a mission from Wall Street and didn't care if Main Street got in their way.
Financially speaking, they succeeded in ruinng the country.   We are flat broke, borrowing from every resource and printing money as fast as we can.   We are treading water.   Millions of everyday Americans have suffered massive hits to their retirement accounts and to just about anything of value.   And while some of the institutions that helped cause all this mess are going down in flames, those who worked there, aside from their personal inconveniences, seem hardly bothered at all.
The attacks on the World Trade Center was a tragedy.  It was horrible in every aspect.   Three thousand died and thousands more had their lives ruined.   Family members, friends, associates, were all damaged by the loss.   Americans from far away were shocked and horrified.   For me, perhaps the worst thing was watching on television as in the aftermath, surviving family ran around with photos and posters of their loved ones in the vain hope that someone had seen them alive.   Who can forget the workers in the building running away, covered with dust as the debris from the crumbling buildings rumbled behind them?
There were the leapers and the police and fireman, all suffering and dying from some demented ideology.  We all know the story.   We have seen it enough times, and we all know how we chased the culprits all over the world.  Whether we did the smart thing, or the right thing, is something I will leave alone at the moment, in order to focus on our current debacle.
Because in many ways, this fiasco is much worst than 9/11.   It has caused more damage, ruined more lives, and has created more terror, more uncertainty than that fateful attack, seven years ago.   Millions are affected by this.   Their savings are wiped out, their plans for retirement, for starting new careers, for funding their kids college money have all but vanished.   The very country which most found solace and though the best in the world is teetering and in danger of becoming a second tiered nation.
There are criminal investigations already under way.   If the Federal Law Enforcement services do their job, surely there will be indictments and convictions.   If anything, there is no lack of malfeasance, but the malfeasance is so great it can overwhelm the Department of Justice.   I'm sure there were be Federal Crimes, State Crimes and serious Civil Cases.    And then of course there are those who did not really perform any criminal acts.  Instead they were greedy and ruthless and cared not a wit for the average guy and his well being.
So when so many lives are ruined and the citizens are terrified, shouldn't we then regard these transgressions as acts of terror.   When you act deliberately and create circumstances that terrify the citizens, rendering them uncertain and insecure, shouldn't this be regarded as the height of a terrorist act.   And if our bankers, brokers, appraisers and all the other corrupt personnel that just had to get in on the party are to be regarded as terrorists, then perhaps we should consider sending them to the Guantanamo's of the world.   Let them sit there and instead of the Koran they can shuffle expired contracts around to their hearts' content.  Make them do penance, and force them to give intelligence and to rat each other out.   I'm sure it wouldn't take much to get them to do so.
Hey, it's just a thought.   It's also a thought that achieved fruition in the past centuries.   Scalawags have been hanged, beaten, put into stocks, tarred and feathered.   Our predecessor may have been onto something, especially in the way they treated those who betrayed the public trust.   Oil may be a prohibitive expense, but tar is cheap enough, and you can recycle feathers out of old pillows.   Their pillows.
Sure, I realize they are not the only ones to blame.  You can blame our legislators for handing out favors and perhaps taking kickbacks to eliminate the inconveniences brought on by rules and regulations.   Government oversight is just too gauche    Let's face it, you give people a license to steal, and they will steal.
We can blame ourselves, or some of us can blame ourselves, for wanting everything.  For actually believing you can buy a house with no money down and teaser payments that amount to maybe a third of the monthly mortgage.   We can blame ourselves for being gullible enough to believe houses will always appreciate and that we should use them for our piggy banks.  Pull out the equity so that we can buy boats and cars, and other trinkets and beads.   We can blame ourselves that a country this size can function as a consumer nation, where we don't really make many things anymore but shuffle documents around that contain bad debt.   Or we can live in denial and not blame ourselves at all.
But most of us know better.  Most of us are seething how our public servants let us down and how Wall Street deceived not only us but the rest of the world.   We are angry that we now have to dig deep and forgo our own debts to pay off theirs.   I suppose it's about now that all that shiny junk you bought on credit doesn't look so good.   Those custom shirts are starting to fade and fray, the fancy car is, well, just another car.
And we are still terrified.   Because while we have had eight years of warning about terrorists, our own Quislings have taken us down.   Terror now is going to the gas pump, or being in a small business and trying to borrow money for the coming season.   Terror is sweating out the next couple of months on bad tires until you can afford to buy new ones.   Terror is feeding your kids and putting shoes on your feet.  And then should you get sick, then terror knows no bounds.
So what do we do with these craven beings who worked so hard to line their pockets out our expense.   Some, ironically, will be rewarded for their failures.   Rewards in this case are usually great than the money you may make in your lifetime.   Others, I suppose will be downsized, drift away and look for new avenues.  Perhaps the bloom is off the ethic of the MBA.  Perhaps a new kind of reality has set in.  Probably not.  But then, they may really have no choice.
So what do we do with all the greedy stooges?   Perhaps nothing.  Perhaps the best thing we can do is vow as we have done with other great tragedies, that it will never happen again.  Until the next time.