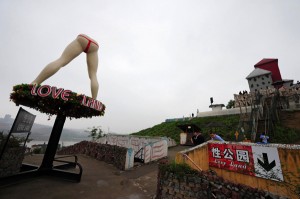 When you think of China, you don't think of it as a particularly sexy place.   Probably the Chinese don't even think of China as a particularly sexy place as they tend to take their lead in sexual conduct from the West.   Nevertheless, with nearly 1.5 billion people, China is the most populated country in the world.   All those babies have to be coming from somewhere.
In truth, the citizens of China have practiced pre-marital sex for quite sometime now.   They may not have the long legacy of erotica  found in the West, initiated since time began and fortified by the art and literature,and ruminations of the Victorian Era, leading up through the pornographic "French Decks" of playing cards to the grand institution or erotica we extol today.   The Chinese may not even share the Japanese legacy, the artful and colorful paintings of lovers in bold colored silk robes contorted in every imaginable position, most of which having their visage in defiance of logical perspective.
Beauty shops and massage parlors permeate most Chinese cities, with each being the code word for a brothel.   While technically against the law, Chinese authorities tend to look the other way when it comes to the long stand presence of "beauty parlors," kind of like what California does with its medical marijuana shops.  And like the medical marijuana shops, unless there is political pressure from a self-righteous group of do gooders with too much time on their hands, or the owner of the "beauty parlor" manages to upset someone in the bureaucracy, business goes on with little fanfare.
There is a preponderance of "adult health stores".   These health stores are not to be confused with American health food stores where you can buy your granola in bulk.  Chinese Adult Health store is the given name for purveyors of every imaginable type of adult sex toy.   To say these stores are easy to find, is to equate their proximity with the nail salons of American.  If there isn't one on every corner, then the sex toy shops are ubiquitous enough to assure no one will be waiting in line.  As for pornography on the Chinese Internet system, that is also forbidden.   But needless to say, thanks to the wonders of modern technology and with necessity being the not only the mother of invention but a matter of getting off, the Chinese can acquire software that can circumvent the government blocks.
As with most countries on an economic upswing, social regulatory efforts, if not necessarily the actual letter of the law, tend to liberalize in practice as well as theory.   When people are starving and struggling to survive, they have little time for sexual diddling.  Or if they do have time, it is because it is there only diversion from a dreary life, and those impromptu episodes usually result in the begetting or more children, which puts even more pressure on the family and its struggles, and makes for far less time in the exotic pursuits. A win-lose situation, for sure.  But when the good times are rolling, leisure and vice become a heady pursuit.
So what's the big deal over the Chinese college professor, Ma Yahohai, who was sentenced to three and a half years in prison for having the temerity to engage in sex orgies and practice sexual partner swapping.?   Ma and his girlfriend were members of a group  of 22 persons that had some 35 swinger sessions over a two year period.  Frisky devils.  Ma participated in about half of these sessions.    Most of these sessions took place in Ma's two bedroom apartment.   Ma shared the apartment with his girlfriend and mother.   What the adventuresome couple did with Momma during these libidinous occasions is anyone's guess.   Maybe she took video.   Or like a good caring mother, washed off the sex toys to eliminate disease.  One can only imagine.
But the fact is that out of the twenty two arrested and charged with Criminal Law 301, Sexual Law 301, Crowd Licentiousness, eighteen of these randy souls were sentenced to prison.   While the defiant Ma was sentenced to his three and a half years, others were sentenced up to two and a half years.   No slap on the wrist, and no mention whatsoever about community service or making an anti-sex film.  The Chinese prison system has never been known much for luxury living.    So a couple of years in jail can give you a lot of time to ponder wistfully the sex orgies you will be missing.   As for the three defendants who got off without a jail sentence, I have no idea how they got so lucky.  Maybe they were only there to watch or serve hor dourves.
It could be worse for Ma and his swinging associates I suppose.  Back in the good old days of Chairman Mao and his successors,  various types of sexual congress, including group sex, could be construed as "hooliganism."     "Hooliganism" was catch all charge for crimes that made you realize you were in big trouble.   Big trouble meant a lengthy jail sentence at a slave labor facility not of your choice.   You were looking at possible execution.  So by those draconian standards, I suppose, a couple years in jail is a slap on the wrist.
According to reports, there are 100, 000 alleged swingers in China out of the  1.3 billion population.  In terms of Chinese population this is but a measly few.    The measly few engage in group sex and brag about it by posting on the Internet.   Many more beyond the 100,000 read it as it provides if nothing else some vicarious thrills in a country that has yet to develop the 900 sex number.   But still, we are talking a small group of enthusiasts.   Not particularly threatening.  I would consider the group grope of twenty odd people in a two bedroom apartment more of a threat to the integrity of the carpet than to the burgeoning Chinese economy.
Other groups are considered far more threatening.    There are all sorts of radicals and terrorists groups who actually blow up things and don't just brag about some sexual exploits on the Internet.    There are people trafficking in illegal everything, from counterfeit prescription drugs to counterfeit invoices.   There are myriad labor strikes and worker unrest, including violent demonstrations.   The citizens of the more rural provinces are restless and prtoesting the state appropriation of their lands.   This has resulted in massive riots.  In one riot recently, hundreds were killed in Sichuan Province.
There is airline corruption and all sorts of financial swindling.   Chinese law enforcement has been very busy as the nation pays the price of progress. Even the questionable menace of the Chinese Uighur population  would present more of a problem than a  couple bunches of swingers.   There are many millions of Chinese Uighurs, a Muslim group that is viewed by the Chinese Government as a radical faction and periodically subjects them to surveillance and harassment.   In Xinjiang Province alone, nearly half the population of 23 million are Chinese Uighurs.    I would venture very few Chinese Uighurs are swingers, but that is another story.  The fact is the swingers of China make up but a small but determined faction that you could probably fit into the Beijing Subway.  A chance at getting off at every station.
To be sure, I am not promoting swinging.  I am not promoting it in China or anywhere else.  In fact, mere photos of the swinging Internet set threatens to drive me to the monastery for contemplations of  semi-theistic metaphysics and far less carnal pursuits.  Watching the few happy partner swapping examples on the Jerry Springer Show made me seriously consider celibacy for the next millennium,.   Fortunately, reason took control of my senses.  I only took a shower, instead.   Here in America,  swingers can live large and lounge about in communal congress inside the often tacky but spacious environs of a split-level sub-tract with enough garage and driveway space for all those Toyota Camrys.     Meanwhile their kindred Chinese swingers must dangle their dongs in a measly two bedroom apartment.   Here you get to be on Jerry Springer or at least have your fat, naked ass plastered all over the Internet.   But in China you get a couple, few years in jail.
To loosely paraphrase Voltaire, I may not like swinging and partner swapping, but will defend to the death your right to engage in it, no matter how nauseating it may appear.   Alright, maybe I won't defend it to the death, as I have better things to do than defend the randy rambling of a bunch of refugees from Wal-Mart looking for distraction in a down economy.    But at the very least,  I will give it lip service, even when I grimace and fumble with the shower faucets.  Why?
Because everybody should have the right to get laid.   It is a right, after all, and not a privilege.   Okay, so maybe sometimes it is less of a right and more of a privilege, a treat even,  a pathetically rare one, depending on the disposition and predilections of your spouse or lover.  I realize that sometimes your significant other does not find  either you or your entreaties as significant or otherwise as you might either hope for or come to expect.   So I guess like other debates over rights and privleges, there is at least a little wiggling room.  But once you do work it out with your lover or significant other you have the freedom to fire away, anytime, day or night.  Even if twenty two people are involved.
But as in China, there are some here and in parts of the world who don't really see it that way.   They allude to some intelligent design and a divine plan where you must only do it with restrictions.   They ascribe the  damning words immoral and degenerate to a variety of sex practices that were apparently never detailed in the master plan.  Otherwise, I suppose, the master plan would have been just plain old porn and not some divine edict from the heavens explaining explicitly where Daddy and Mommy or Daddy and Daddy or Mommy and Mommy may put their thingies and Woo Woo's.   In some cases they want to rearrange your thinking; they want to straighten you out.
Oppression always begins somewhere.   Usually in the stupid places, the places that make us wince.   But then they graduate to places where we are concerned where transgressions are made against our privacy and thought process.     We suddenly find our rights intruded upon and threatened by a group of ideologues who truly believe in this world of infinite choices they are so graced with absolute answers.   We find ourselves being subjected to embarrassment and thrown in jail for acting out on our natural impulses.  Oppression begins in the dumbest of places, and it ends somewhere else.   And we don't know how we go there.
Chinese Professor Ma Yaohai has resigned from his teaching post.  He now lives off his savings and his mother's pension.   He is appealing his sentence of three and a half years for "group licentiousness," which translates into getting his rocks off with a couple dozen people.  As we have seen recently in this country, some of our own social issues that we thought were long put to rest, sexuality, racism, the right to live and breathe as you so choose, have resurfaced and been challenged by perhaps a well intentioned but vehement minority.  Given that the road to hell is paved with good intentions, we should never take the good professor's condition all that lightly.  No matter who you are or where you sleep, something  may be lurking beneath the sheets.  Something besides your partner's cold feet.