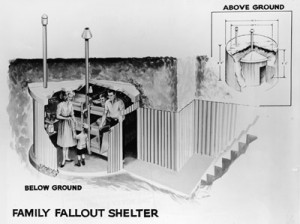 People have been preaching the end of the world since there were…well…people.   Over the centuries, you have everything to ruin your sleep from the dire predictions of Nostradamus to the guys with sandwich boards warning in ugly painted lettering of the impending Armageddon.   We have had in the Cold War the ever present fear of nuclear annihilation.  Now we have the fear of terrorists with weapons of mass destruction.
We also have the Mayan Calendar, which purportedly ends in December 2012.   Many see this as Doomsday, the end of the world, the end date  of a 5 thousand odd year cycle.  A cottage industry has grown around the fact that the Mayan Calendar does not extend beyond December, 2012.   It is the end of the world, see the movie, buy the cookies, wear the tee shirt.
Maybe the end of the Mayan Calendar has nothing to do with the end of the world.  It may mean nothing more than they foresaw the end of political sanity as a bunch of mediocre candidates may be running for office.   On more mundane levels,  it may mean the Mayans were bored with their lives and found that one day ran into another there was no pressing need to chronicle their lives through time and space.   So instead of extending their calender, it was a symbolic rejection of their future as that future only mimicked present and past–same crap on another day.   Perhaps, after a long, spiritual consultation with their gods, where they sacrificed their last remaining virgins, Mayan priests saw in their future a world of  MacDonald's and Wal-Marts and figured the hell with the chronicles of history, not with Glenn Beck and Sarah Palin coming online to get it all wrong.
I don't know.   I don't even pretend to think I know.   I lived through the Cuban Missile Crisis and that was no joke.  The specter of apocalyptic reality did indeed hover  for those 13 days.  Couple that with the insipid high school air raid drills where behind the closed paper window shades we gathered in the hallways, no talking, no chewing gum, to accept our fate of collective incineration.   Easier that way, as for those who survived the nuclear holocaust would only have one hallway from which to sweep up the ashes.    But as the Cuban Missile Crisis was averted, we were left only with the only one residual epiphany, that doomsday renders high school even more irrelevant than we had originally supposed.   At least that was the value I took away, that no funky, out of date textbook could ever hope to refute.
But now here we are.   We have any number of doomsday predictions.  Pick your pet scenario for impending disaster.   There are certainly enough to go around.  Global warning has its virtues, and of course the terrorists and weapons of mass destruction.  Those Mayans again.   Nostradamus.  Although you haven't heard much about him lately, at least not since the movie flopped.     Talk about lack of star power and box office draw.  If you go out on the limb, like Nostradamus, you have to  be at least somewhat on target about doomsday to keep them coming back for more.    A couple of flop predictions and those eponymous tee shirts are remaindered to to the bargain racks at Ross Stores, before you can say "Von Dutch."
So now you have some entrepreneurial soul who is selling bunk beds in a converted bunker out in the Mojave Desert.     AT&T had a bunch of those bunkers stationed around the country.  They were designed to withstand a nuclear blast and keep the communications open through secure microwave technology.   The bunkers are around 14,000 square feet, which is roughly about the tenth the size of your average Kroger or the size of a modest supermarket.      Not real big.   But then, back when these bunkers were built they were constructed so wires and diodes would remain intact and not people.
But here we are in a frenzied world with frenzied headlines and hysteria about one thing or another at every turn.   It's an odd world that way.   One minute we are told to relish the Hallmark moment, and the next we are warned about the reality of impending doom.   Yes, odd.   Buy stocks and prepare for retirement in one life's breath and in the other just kiss your ass goodbye.   No wonder people are confused, frustrated, and not sure which way to turn.   If it's all over twenty minutes from now, why even bother going to the gym?   It is almost as stupid as going to high school.  Well…maybe not that stupid.
So here they are out in the Mojave Desert, selling sanctuary from the end of the world.   It could be all yours for a mere $50,000 in cash.   Blast proof doors and a bunk in a room with three other people.  Yes, you will have one of the four bunks.   Kind of like a youth hostel with freeze dried food that may be slightly worse than the culinary mystery you buy off a roach coach.   Just you and two hundred other people in your 14,000 square foot collective space.  Cozy.
You get to sleep in the same call as three other people.   This means a cacophony of bad breath, stinky feet, snoring, and the occasional sneaky night fart.  This is what you get for your fifty grand.  Not the Ritz, and not the Four Seasons.  Not even the Holiday Inn.  Naw, not even the Motel Six where at least a wall separates you from the commotion next door.    After awhile, it would stand to reason you would be hoping a hundred megaton bomb would relieve you of your last bad decision.   Just throw back the blast proof doors and release yourself to the refreshing embrace of nuclear radiation.
Okay, so maybe after some deep contemplation the $50,000 investment for a berth in the bunker does not seem like the world's greatest investment.    Maybe the end result seems more akin to being stuck on a tarmac for several decades while the apocalyptic pilot waits for the nuclear radiation to reach half life.    Maybe, like me, you would rather be swimming with barracuda than cramped in a tight space with vacant humanity for any time longer than it takes to go from here to there.   So it's possible sitting in a jail cell with a lounge chair is not the best way to slip past the apocalypse.   Maybe you are not that eager to survive, after all.
There is another factor.   Nuclear war happens fast.  Missiles travel at high speeds.   By the time you know the show is in its final run, the missiles are launched and it is a long drive to the bunker that is outside Barstow, California.   Even if you live in Barstow, it's a tough drive.  And if you live in Los Angeles or any of its suburbs, traffic is at a standstill twenty of its twenty four hours.   So when they announce on talk radio that your life will be over twenty minutes from now, I would venture getting from wherever to some dirt road outside of Barstow ain't as easy as, say, resolving the national debt.   The little venture gives true meaning to getting there is half the fun.
So there you are, sitting up to here in bumper to bumper traffic, forty three miles from sanctuary, listening to dire warnings from talk radio that the end the world missile is being delivered toasty warm just moments from now, in a big insulated pizza box.  You didn't make it to your rat hole.      You are dead, thinking to yourself, damn, instead of this bunker, I could have bought a Winnebago.
But for those who are a bit more upscale and choosier about their apocalyptic digs, someone out of Kansas may soon be offering underground survival condos for a mere $1.75 million apiece.   There you may have your much desired exclusivity and languish in the comfort  of your Lazy Boy, oblivious to the pounding of scorched hands from those less fortunate than you.   Never think of them as the unfortunate, but view them  as fertilizer for the future landscaping you plan once the radiation has diminished.  Those fatty food diets they probably ate will play off big time as they replenish the ground.
The condo does have its drawbacks.   Yes, you might survive, but it is a long way to commute to anywhere.  You are in Kansas, after all, and being some wigged out survivalist in Kansas should be punishment all to itself.  In the aftermath of a nuclear holocaust you can be pretty sure you won't have decent reception on your flat screen TV.
Look, this is a variation on an old theme.   People have tried this before and rather than go the collective or condo route, they dug bomb shelters into their backyards.   The stocked them with weapons, food, clothing, batteries for emergency radios and flashlights.   The shelters maybe weren't blast proof but what Russian in his right mind was dropping a nuke on Maple Shade Lane in Levittown?    So blast proof wasn't the issue.  You only had to survive the radiation, Grandpa's senile reminiscing, and the fact that one nuclear family member may croak, causing you to live with the stench until the radiation outside reaches half life and you can venture out into that brave new world of devastation.
But…many did consider the bomb shelter a worthwhile investment.  There was a technical name to these people, attributable to their ability to see into the future and after careful contemplation realize what action needed to be taken.  A very precise and technical name.  Schmucks.   But then after awhile even the schmucks discovered it might not be the end of the world and started using the bomb shelter for more worthwhile purposes.  Like turning it into a sewing room, or the kiddies recreational room, or since there were beds there for having undisturbed sex with the pool boy or maid.   Practical application.  We are Americans after all.
As for the end of the world being imminent…two very basic and visceral responses pop into mind.   Not likely.  And if that is wrong…then…so what?  Yes, so what?   People are idiots and they ended the world.   They were too dumb to live and something else will come along to take our place.  Maybe enlightened protozoa.  Hard to say.  Such is life.  Such is death.
Besides, have you ever been to Barstow?   Imminent death may be a lot better than sitting it out in Barstow.