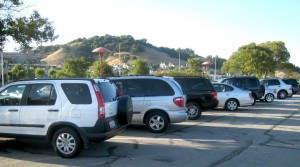 I was reading in the Los Angeles Times where Chrysler would no longer be leasing cars through its in-house financial service. Wells Fargo, known for its auto leasing loans, among other things is also getting out of the auto leasing business. Ford took a write down on its auto leasing portfolio of over $2 Billion, which is a lot of money, even in this day and age.
The car makers who sell mostly trucks and SUV's are being hit doubly hard as those that specialize in passenger cars, but with gas prices being what they are, coupled with the devaluation of leased cars, it is only a matter of time before other auto makers pick up their proverbial catcher's mitts and trundle on out of the car leasing finance business. Tough break.
Once upon a time, the auto dealership could figure with some degree of accuracy the residual value of the car. That means at the inception of your lease the dealer would project the car would be worth a certain percentage of its initial value. Three year old cars in demand, Mercedes, BMW's, Lexus, Hondas, Toyotas would be worth more, percentage wise, naturally, and the ones in less demand, Hyandai's, Kias, stuff like that,would be worth less. This residual value was taken into consideration when they wrote up the terms of the lease. You would pay less per month for a car with more residual value, meaning it would be worth more at the end of the lease, and you would pay more per month for the car that nobody wanted.
Well, now every car dealership is getting killed on most lease returns. The Prius and a few others are the exceptions, but now the Blue Book Value, the estimated value of a car and the actual selling price are at odds. The car is worth less than the evaluation. Enough so that you see dealers who bought out the cars at lease closing now desperate to sell and offering the cars at thousands below Blue Book.
In fact, Santa Monica Lexus this weekend had its first ever "blow out" sale, offering its cars a thousands below the Blue Book value. I was struck by the number of Porsches listed in the ad. This is Southern California, after all, and at first glance one would think they were on the Autobahn what with all the German cars. A Porsche around here is like an entry level Lexus in a lot of other parts of the country. Nevertheless, there they were all models, all colors, just make an offer.
So what's this all mean, besides the obvious? Well, have always been a country in love with its cars. We would joyride; we would watch movies in our cars, eat in them, have sex in them. They were an extension of our ego, a symbol of freedom and a measuring stick for our worth in society. Hundreds of sons were written about our cars and the things we did in our cars. We have auto shows, auto clubs, nostalgic reviews and television shows.
Once upon a time cars were affordable. Relatively speaking. You drove an American car and there were cool American cars and they didn't empty your lungs just to buy one. And then as the world globalized we were introduced to the really sleek, cool, speedy, better handling foreign models. First they came from Europe, some vroomed and some sputtered, especially in the rain. Anyone who drove an English sports car in the sixties can tell you about his travails with the Jaguars and MG's.
And then came the Japanese. First there were the cheap, tinny cars that no one wanted, unless you were too broke for the American car. But then the Japanese cars improved, and Toyota, Honda, Nissan, offered quality cars and premium vehicles with names like Infiniti, Accura and Lexus. As for the cheap part, well that went out the electric window.
So…to have your symbol of freedom and the status and sex appeal it would bring you, you had to spend bucks. Bucks you couldn't afford. Enter car leasing. For a lot less bucks you could drive the car you couldn't afford for several years and then turn it in for its residual value. The auto maker would sell it off, make some more money on it, over your initial leasing fee, and the auto makers were happy as clams.
But now it looks like they will soon be getting out of the leasing business. That symbol of freedom will have to be something you can actually afford. Because you will have to actually buy it. Reality will need a radical adjustment. Your symbol of freedom may lack the sex appeal of the car you once leased. Or it may be a lot older than that shiny new car you drove for three years, put on thirty thousand miles, and then turned it.
Your friends may not envy you as much. Women may not swoon. Few men can ask a woman if you wants to go for a ride in a base priced Kia. Okay, then can ask, but who is accepting? So there you are, no longer in dream city but bogged down in the reality of the times. As for joy riding, forget that at $5 bucks a gallon. You ain't even going to the movies, half the time. Pay per view and a pizza ordered from the shop where the delivery kid has to pay for his gasoline.
Online dating may end up being more "virtual" than first anticipated. Fashion companies could be offering attire and accessories for weekend phone sex. Pajama parties may again become the rage. Why? Because everyone will stay over for days, since they can't afford the gas to go home. I suppose it is a good thing after all that drive-in theaters have long gone the way of the rumble seat.
If there is a silver lining, take stock of the car you will be buying and not leasing. The reason many expensive cars were expensive, besides their performance, sex appeal, and a mark of your status, is because they are made well. They weren't made initially to be leased for three years and turned back in. They were made to be driven for years and years. They were made to go hundreds of thousands of miles, before dying an honorable death.
So if you buy one and drive it for the five or ten years, like the Europeans usually do, then the price of the luxury vehicle still makes sense. You can enjoy it, retain your symbol of freedom, sex appeal, and status symbol, albeit a little threadbare over time. You can enjoy the better cars for what they were made for–quality and performance. Or you can buy a car you can afford, get rid of it when the loan is paid and buy another, maybe an electric car. In the future.
In any event, your car, after being driven awhile, like quality clothes made from quality fabric, will develop the one thing it doesn't have now. Character.
Happy motoring.